The painting of Jérémy Taburchi, a journey through art
One of the most talented young painter of the "Nouvelle école de Nice", Jérémy Taburchi was born in Nice in 1974. Troughout the years, the artist developed his art by giving life to a playful and colorful character he named "the Pink Cat". The character been evolying for almost twenty years, like a marker of his time, together in style and in form of his acrylic painting.
Witness of his generation, and of the change of civilization we are all confronted, passing from the electronics age to the all digital age, the artist Jérémy Taburchi brings in his character "the Pink Cat" sometimes through the media classics (drawing, painting, sculpture), sometimes through more virtual media, such as digital drawing, video or 3D. Sometimes one leads to another, again testifying to this hybrid age all of us succumbs more or less voluntarily.
Because the current age, with its flood of images, whether advertising, print, television, digital, facebookized, instagramized, tiktokized, etc… represents a challenge for any creator: how to approach this infinite multiplicity of possibilities? What is the painting still worth in 2022? Should these new media be used as creative media or advertising media?
Jérémy Taburchi answers this question in the simplest way: "Painting – or drawing – is a gesture, it is therefore a bodily moment, a moment of reality, a living proposition that we offer to amateurs. Digital media are much more conducive to reflection, analysis, calculation, I would say. The emotions that arise from it seem to me as fleeting as the news feed of the medium that broadcast it. I like the sensual relationship to matter because it is also a long-term relationship".
In the age of NFTs, do physical objects still have a place? Sure. The painted picture, with its intentions, its nuances, and its imperfections, is a precious thing. It is a relay, which the creator passes on to a collector so that the emotion that gave birth to it can still live.
Jérémy Taburchi's painting is marked by gentleness as a quest for a simple happiness that would be within reach. To be convinced of this, just look at the artist's favorite themes: A cat looking at the setting sun on the horizon, a siesta in the lush grass under a starry sky. The painter also excels in humor, imitating in an always sensitive and respectful way the paintings of the greatest masters.
And don't tell him that his Cat looks like the Pink Panther, Geluck's Cat or others, Jérémy Taburchi's Pink Cat is unique! When asked the question of his origin: "He was born in 2003. I used to read the Herald Tribune while having my coffee, and I was fascinated by the brilliant pencil stroke and the humor of the little comic-strips that populate the last page of the newspaper: Snoopy, Dilbert and company. I wanted to try to get closer to this pencil stroke and my character was born from it. I quickly offered my services as a cartoonist to local newspapers and magazines, then I started painting my character on large canvases, in scenes that were relatively trashy at the time."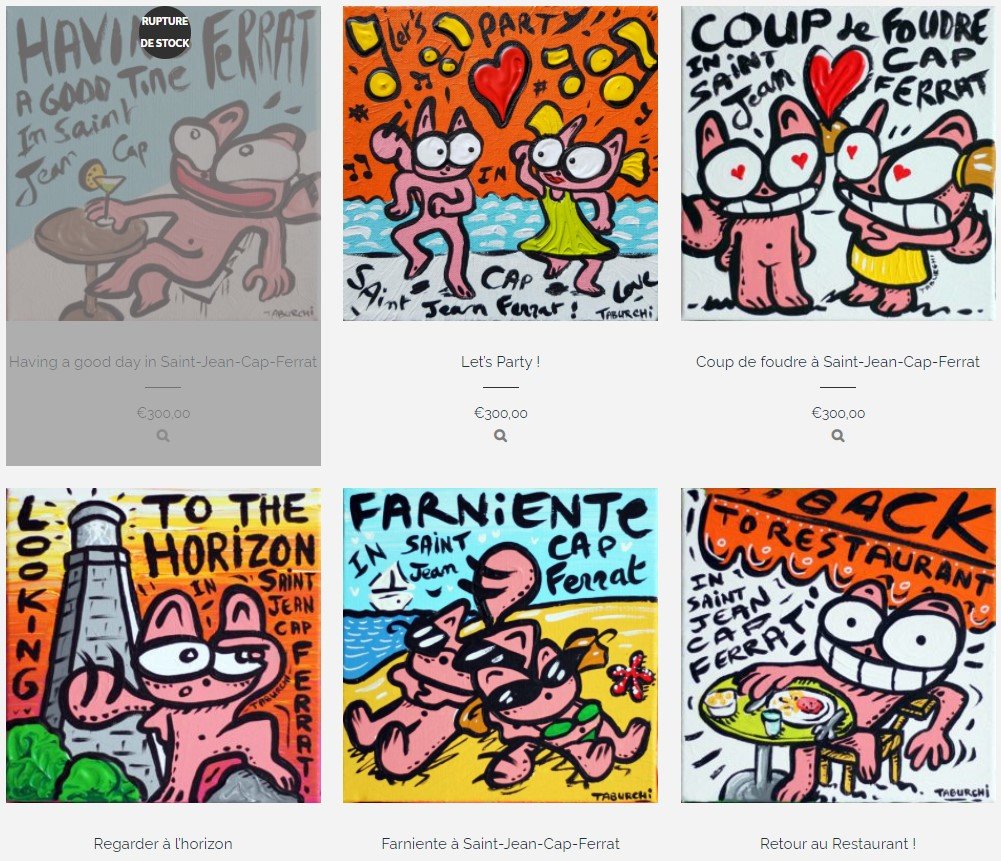 The pink ? Why pink?
"It is not a symbol for me. It is above all a color with a calm energy, which is what I appreciate."
This calm energy, these little moments of happiness, we find them in the exclusive series the artist created for Ferus Gallery, dedicated to the charm and the Dolce Vita of Saint-Jean-Cap-Ferrat.